How Tulip Gardens Can Give You a Modern and Stylish Lifestyle
At length, Manila's real estate and condominium market continue to flourish. In today's fast-paced world, many individuals and families alike opt for homes that offer accessibility, comfortability, and convenience into one.
As we speak, there is a constant increase in the condo market, particularly here in the Philippines. Megaworld's
Tulip Gardens condominium
is not an exception. Read on to find out more about how Tulip Gardens can give you a modern and stylish lifestyle:
Modern and Stylish Lifestyle | Tulip Gardens at Southwoods City
Set just right at the heart of Southwoods City is Megaworld's newest condominium development, Tulip Gardens.
Tulip Gardens is a mid-rise residential condo project within Southwoods City in Carmona, Cavite, and Laguna. The establishment features beautiful skyline views with unparalleled access to important establishments within Southwoods City. Thus, the entire development aims and promises to deliver only the best of quality, exclusivity, and distinctive living experience.
Gone are the days of going out of your way to getting to the city's conveniences especially that Megaworld's Tulip Gardens is here now. Everything is just right within your reach! Megaworld promises to offer multi-faceted fun living, which homeowners will benefit from considering its upscale living experience.
Features and Amenities
Tulip Gardens has a fully-integrated community with a 24-hour, strict security system. The management indeed wants to ensure safety and soundness throughout the entire area. Additionally, the management will also provide upkeep of the project's grounds and the building's features. On top of all that, there will be constant general maintenance in common areas. As a result, you don't have to worry about paying your monthly dues for nothing!
Since the beginning, it has always been Megaworld's forefront vision to push sustainability throughout all its projects. Therefore, Tulip Gardens is a firm testament to these sustainable efforts. Furthermore, the community will have landscaped, open spaces for people to stroll around, jog or run a bit, or simply just unwind and be one with nature. Other features and amenities include: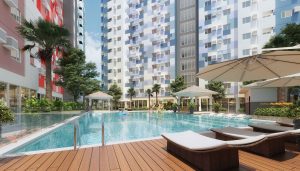 Adult and kiddie pool

Pool deck and cabana

Male and female changing rooms

Gym

Playroom and Outdoor Playground

Multi-purpose hall

Jogging area
All these you can get your hands on. Start living a modern and stylish life now. You may contact us here for bookings and reservations.