Benefits of Living in a Cul-De-Sac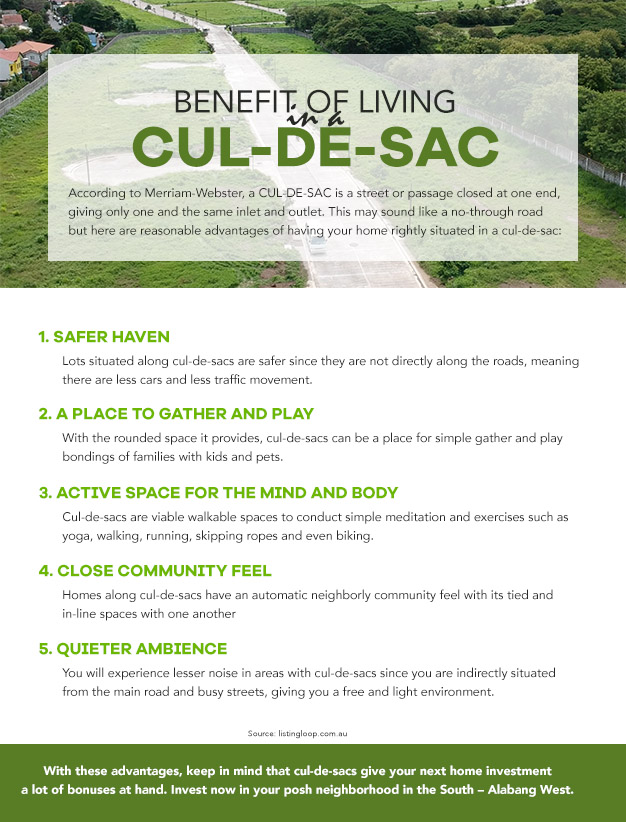 According to Merriam-Webster, a CUL-DE-SAC is a street or passage closed at one end, giving only one and the same inlet and outlet. This may sound like a no-through road but here are reasonable advantages of having your home rightly situated in a cul-de-sac:
Safer haven

Lots situated along cul-de-sacs are safer since they are not directly along the roads, meaning there are less cars and less traffic movement.

A place to gather and play

With the rounded space it provides, cul-de-sacs can be a place for simple gather and play bondings of families with kids and pets.

Active spaces for the mind and body

Cul-de-sacs are viable walkable spaces to conduct simple meditation and exercises such as yoga, walking, running, skipping ropes and even biking.

Close community feel

Homes along cul-de-sacs have an automatic neighborly community feel with its tied and in-line spaces with one another.

Quieter Ambience

You will experience lesser noise in areas with cul-de-sacs since you are indirectly situated from the main road and busy streets, giving you a free and light environment.
With these advantages, keep in mind that cul-de-sacs give your next home investment a lot of bonuses at hand. Invest now in
Megaworld's
Posh Neighborhood in the South –
Alabang West
.