Experience Christmas Only At South Metro's Very Own Rodeo Drive
September 2019 has left a significant impact in all of Megaworld as it was the initial opening of its very own Alabang West Parade at the Alabang West township located just down south of Metro Manila.
Home to much of today's Hollywood stars is Beverly Hills, a popular residential community in the entire world. More than just a real estate neighborhood, Beverly Hills is also known for its upscale shopping district, Rodeo Drive, which features luxury, high-end brands, world-class restaurants, boutiques, and so much more.
Experience Christmas At Alabang West
Who says you have to fly all the way to JFK just to experience the glitz and glamour of Beverly Hills? South Metro has its own version of this high-end neighborhood complete with its very own Rodeo Drive, all for the price of one! 
Dreaming of living the life that's full of glitz and glamour? All these you can definitely experience in Alabang West! Allow us to be a part of your lives and make your Christmas even more special by investing in a lot with us!
This holiday season, we have yet to unfold another chapter of the Alabang West journey as we treat you and let you experience a one-of-a-kind Christmas only at South Metro's very own Rodeo Drive – the Alabang West Parade.
The Alabang West Parade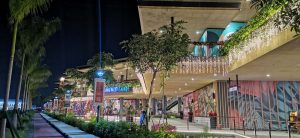 Each day until Christmas, experience waking up at a Beverly Hills set up just by stepping right outside your doorstep. Your Rodeo Drive is just right around the corner!=
This Christmas, the Alabang West Parade will showcase its stunning Christmas tree to the public. Enjoy the cold and relaxing Christmas breeze and fill up your bellies right after in one of the mall's world-class restaurants and cafés.
Got any more questions? You may reach us at info@megaworldglobal-estatesouth.com or call us at (+63) 917 525 3797.